still counting gifts from God because they are everywhere. He is good and i am thankful.
1474. witnessing my littles appreciating the beauty of a summer rain shower
1475. the whir of the aquarium when everything else is silent
1476. Bubba's new haircut: good boys wear mohawks, too
1477. Pamplemousse La Croix
1478. afternoon swims and losing track of time
1479. impromptu living room dance parties
1480. indoor playgrounds with friends on rainy days
1481. packing up outgrown clothes to pass down to little friends
1482. indie films after hours with my man
1483. doors closing, followed almost immediately by doors opening for
Declare
1484. fabulous
new 4" stilettos
and the guts to wear them
1485. my kids up on stage whole-heartedly leading praise & worship at church
1486. new work hours = more family time
1487. new routine of washing dinner dishes with Big Girl
1488. breath prayers
1489. "those aren't faults. they're features."
1490. bright rain boots on grey days
1491. dreams of forgiving, waking up free
1492. childhood memories listening to Kidd Kraddick in the Morning on the way to school
1493. opportunity to teach nutrition at homeschool co-op
1494. my man taking on somewhat major home improvement projects
1495. sweet Miss Bea at the neighborhood office
1496. anticipation of getting to see friends at the beginning of each month
1497. Klyde Warren Park and Ruthie's Food Truck
1498. talented saxophonist under the bridge
1499. the book of Proverbs (wisdom)
1500. pastors that passionately preach God's Word and lead the church to Jesus
1501. those first few moments every morning, just waking up, communing with God
1502. the riches of His love is
always enough
...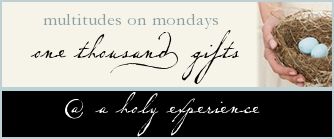 Oh, I'm running to Your arms
The riches of Your love will always be enough
Nothing compares to Your embrace
Light of the world forever reign!