i have been blessed with incredible friends in my life over the years. but, like most women, i have also been
deeply hurt
by someone i thought was my friend along the way.
let's just be real here, girls don't always play nice. am i right?
sometimes, the ones that hurt us the most are the ones that we thought we were closest to.
it is like a war.
i am reading
Women at War by Jan Greenwood,
and am delighted to be a part of the book study hosted by
A Beautiful Deep.
Jan addresses this often treacherous dynamic of woman-to-woman relationships.
and it is a good book.
Jan is speaking to my heart and i am letting old wounds heal.
ladies, this war started long, long ago. but we have to know this: we are not each other's enemy. our enemy is Satan.
we're in Chapter 6 this week with the
Women at War
book study. this chapter is all about our family trees, broken branches, and stunted growth as a result of relationship hurts.
if i look at my life as a tree, branches representing my family, friends, and loved ones, i see it tall and strong, branches full and roots deep. it's a healthy tree with room for more growth. but it needs pruning. some branches broke off bluntly. some branches are cracked, hanging on by a shred of bark.
but it doesn't have to stay that way.
if i am willing
to give it to God and trust Him with my relationships, my "tree" can be healed, grow, and thrive! Jan encourages us, broken branches can be mended.
Women at War
is opening my eyes and opening my heart to ending this battle among women. i encourage you to read the book, too! your relationships will be BLESSED!
ladies, let's end this war!
i would love to hear your thoughts on this chapter and the others in the
Women at War
book study. here are Chapter 6's questions for reflection:
Have you ever looked up your family tree? What interesting people or stories did you find?
What does your "tree of life" look like? Are there full, rich, shady parts? Stumps?
What would it look like for your tree to grow again?
join the discussion on Women at War Chapter 6 here.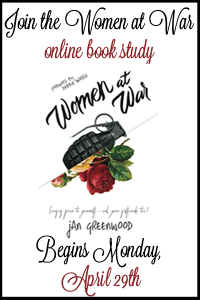 i was provided with a copy of the book in exchange for a review.
all personal experiences and opinions are my own.
affiliate links enclosed.