i love coffee. i take my coffee black, but every once in a while i'll kick it up a notch and have a fancy coffee. (having an espresso machine at home makes it all too easy to do that.) we are getting into the season that is the best time of year for fancier coffee/espresso drinks!
here are 10 of my favorite coffee recipes, altered and modified from recipes that i found in cookbooks and online, or completely made up as i went along. bottom's up!
1. homemade sea salt caramel mocha:
whisk together 2oz espresso, 2 Tbs cocoa powder, 2 Tbs sugar, and 2 Tbsp caramel sauce (see #2). top with steamed milk (or whipped cream). drizzle caramel sauce across the top and a dash of sea salt.
2. homemade caramel:
in a small pot over medium heat, melt 1 8oz can sweetened condensed milk with 1 cup natural brown sugar, stirring frequently until melted smooth. remove from heat and store in a sealed container.
3. homemade coffee sweetener:
in a small pot over medium-high heat, stir together equal parts water and sugar. use by the teaspoonful to sweeten hot or iced coffee... (see #4)
4. everyday easy iced coffee:
brew a pot of coffee, or using your morning leftovers, pour coffee into a carafe and refrigerate for at least an hour. pour desired amount of cold milk (or creamer of choice) over ice in a glass. add coffee. add homemade sweetener to taste. sip and savor.
5. salted caramel hot chocolate:
in a medium pot over medium heat whisk together 4 cups milk, 1 cup organic cane sugar, and 1 cup cocoa powder. stir occasionally until steaming but not boiling. pour into your favorite mug, top with whipped cream, drizzle with caramel, and add a pinch of sea salt and enjoy.
6. nutella latte: put two heaping tablespoons of Nutella in a small pot with 3/4 cup milk over low heat and stir until the it's smooth and creamy and steaming hot. add more milk if necessary. meanwhile, brew 1-2 shots espresso and froth more milk. pour espresso into a coffee mug. add the Nutella mixture. stir. add the frothy milk. heavenly.

7. homemade coffee frapp: using a food processor or Magic Bullet, crush 1-2 cups ice. add to the Bullet 1-2 shots of espresso, 3/4 cup milk, and 3 tablespoons of sugar. blend well. pour into your glass. be very generous with the whipped cream on top.
8. homemade pumpkin spice latte: pour 2-4 shots espresso into a medium pot on medium heat. add 2 cups of milk or creamer of your choice. add 2 tablespoons canned pumpkin. add 1/2 cup sugar. whisk until well blended. add 2 tablespoons pure vanilla extract and 1/2 pumpkin pie spice (this recipe is the only reason i buy that spice!). stir together until steaming hot. pour into your favorite mug, top with whipped cream, and sprinkle more pumpkin pie spice on top for decoration. yum.
9. cheater's chai tea latte: hot: in a coffee mug heat 1/2 cup of store-bought Chai (we like Tazo brand, in the tea section at the grocery store) for 45-60 seconds. stir. add coffee or espresso. stir. cold: pour coffee or espresso over ice, add 3/4 to 1/2 cup store-bought Chai. sip. guzzle.

10. coffee: oops, sorry. i don't know how to brew coffee. my husband makes the best coffee ever- nothing even holds a candle. all he has to do is pour it from the pot into my coffee mug. i don't need to add anything to it. it is just pure deliciousness!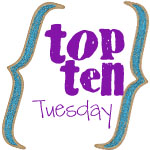 linking up with the very purple
OhAmanda.com Top Ten Tuesday
.