"For I am sure (beyond a doubt) that neither death nor life,
nor angels nor principalities, nor things impending and threatening
nor things to come, nor powers,
Nor height nor depth, nor anything else in all creation
will be able to separate us from the love of God
which is in Christ Jesus our Lord."
695. "you're the BEST!" little squeals of delight
696. a new hole in BigGirl's smile, making her look so grown up
697. identifying my fears and strengthening my faith
698. daily assurance: they are listening and learning
699. from the other room, hearing someone else washing dishes
700. 60 minutes of ultra fun cardio dance class
701. overwhelmed, shaking and tears, at the sound of His names
702. mini-me pushing a shopping cart, checking her list
703. mini-Jeff pounding a hammer, using a drill
704. coffee brought to me on the bedside table
705. Fall-time white noise: football on TV
706. popping on Twitter just in time to see an urgent prayer request
707. packing up things to give and then a need arises
708. little home improvement projects that make big impact
709. friends that challenge me to be creative
710. an invitation to encourage others
711. Facebook birthday reminders
712. DaySpring
Heart Connection Card Club
713. stagnant grass
714. breezy afternoons, fresh air-filled home
715. dinner prepared by BigGirl
716. Bubba and his lost but found beloved "Bible Book"
717. quality time with Granny
718. Chapter 5
"What Women Fear" by Angie Smith
719. potted Aloe Vera in our backyard, natural healing
720. more oranges, browns, purples, and golds
721. tender loving teachers at Bubba's preschool
living the sure life, the counting life, the thankful life...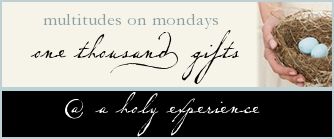 ----------------------------------------