Crazy faces...
"'cause we're never gonna survive unless we get a little crazy" -Seal
This week...
flew by! It was Catch Up and Get Ready week. You have those weeks, right? I was doing every thing that needed to be done in preparation of our first official week of school next week, and we had a "mock" school day! I wanted a day to go through the motions of our school work with Big Girl since we are using the workbox system for the first time, and working alongside Bubba for the first time. Our day looked a little something like this:
7:30am breakfast
8am devotional & prayer, welcome wall
BigGirl- Box 1 (2 subjects) Bubba- Box 1 (1 book)
9:30am mini break (played outside and ran errands)
11:30am BigGirl- Box 2 (2 subjects) Bubba- Box 2 (1 project)
12:30 lunch and break
2pm BigGirl- Box 3 (2 subjects) Bubba- quiet time
finished!
And that was it! I'm glad we had that practice round because I realized BigGirl needs to start the day with a light subject, she needs a box of Kleenex on her desk and the trash can closer to her, and I need to be a little bit more creative with the things I put in Bubba's boxes. Overall it went well and I feel like we are READY for next week!
Helpful homeschooling advice to share...
don't forget why you're doing this. You were called for such a time as this. You know what you're doing. Pray often and lean on the Lord for extra strength and peace. He gave you your children and He has equipped you for this journey. Enjoy it, make the most of it!
Our Pastor's wife,
Mrs. April Osteen Simons
, prayed a prayer over the teachers in the congregation last week. Getting God's promises in my heart made me feel so empowered! I made it pretty and hung it in our classroom so I can see it, pray it, and plant it in my heart every day.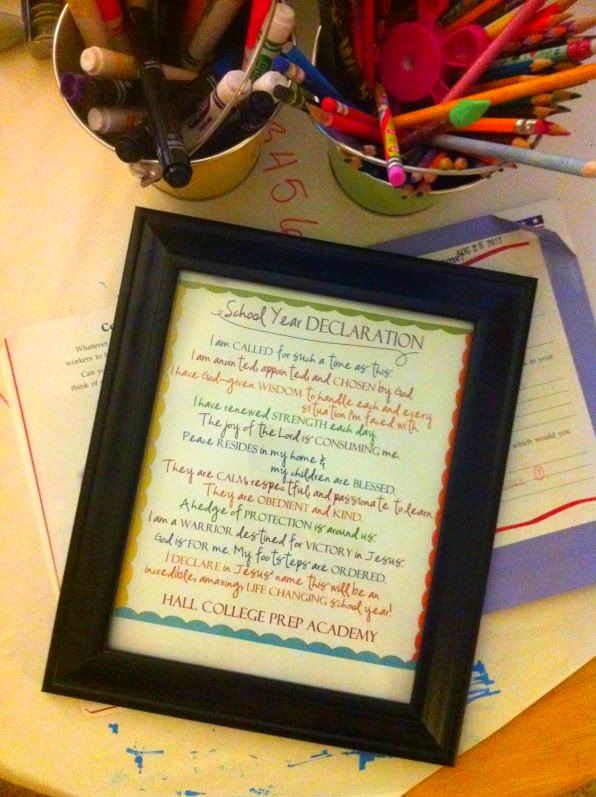 I made one for you, too.
(updated 8/2015 no sign-in required)


Happy School Year, everyone!
Linked with love to The Homeschool Chick's Homeschool Mother's Journal, and the NOT Back to School Blog Hop.
----------------------