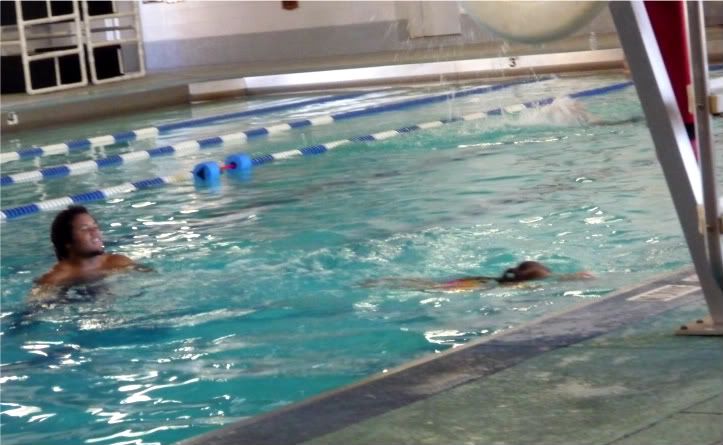 This week...
we made a big decision based on
God's direction
. Things didn't work out they way I wanted them to, and it was a struggle for me to let go of those feelings and fully realize that God is in control. But I did it. Yes, I cried my face off for an entire day, but then I let God comfort and reassure me, the way He always does.
Big turns in life are made easier when I let God take the wheel.


People we're seeing and places we're going... swimming! The kids' both graduated from swimming lessons this week, and I am amazed at the progress they made in just 8 days. Watching both of their little bodies in the water, moving with ease, learning new skills, having no fears, but having a ton of fun, made my heart swell with pride. We also had special lunch plans every day this week with friends, truly making the most of summer!
I'm grateful for...
the opportunity to work with a community of women who are committed to Christ and not ashamed of God's word.
We were attacked.
Mean things were said to us and about us. But all we could do was show love and grace. A community of women committed to Christ spent the night praying for our accusers. I'm so grateful that I know my God. I'm grateful to be part of the
Moms of Master Books
.
Things I'm working on... in between swim lessons, I have started a few crafty projects inspired by Pinterest. I'll let you know if they turn out cute of course. I've also been helping secure sponsors for the Mamas Write Mini-Con, doing some digital designs and printing for new clients, and making plans for the 2011-2012 school year. And I've been prepping and packing, as I'm taking the kids on a little road trip soon.
Links I want to share:
OhAmanda's very helpful How To for posting pictures on your blog.
My post about Facebook's Giveaway Policies, and how I really feel about asking for LIKES.
Heartsy
, because etsy-style Christmas shopping in July has been so much fun (and affordable) and I want you in on it.
For homeschoolers starting to think about the upcoming school year, I encourage you to check out
The Homeschool Village
,
Hip Homeschool Moms
, and
Creation Conversations Homeschool
group for support, ideas, resources, and fellowship.
Pioneer Woman's Iced Coffee
has become my summer afternoon delight.
I am praying for... the adoption processes many of my friends are going through. For The Mercy House and the first baby born this week. For friends going through stuff. For travel mercies and God's protection on our road trip. And that I'll continue to choose joy. Won't you join me in prayer, friends?