i saw a car ahead of me driving down the road with shoe polish scribbles on the windows. as i got closer i smiled when i saw the hearts and read "JUST MARRIED" with the bride's and groom's names. there were still ribbons tied to their bumper, whipping wildly in the wind. i was driving, focused on the traffic, but my mind wandered.
"JUST MARRIED," as that young couple was in the car, is an exciting season in life. newly weds. a new life together. fresh love. celebrating and memory-making.
but after some years, does that "JUST MARRIED" season fizzle into a ho-hum "just married" season? as in, "oh, we're just married." or, "who? my husband? him?" ho-hum, no big deal, stale, mundane, dull.
it could if you let it.
it will if you don't pay attention
. i don't know about you but i'd much rather be "JUST MARRIED" than "just married."
my husband and i have been married for almost 8 years now and i like to think that most times we're still in that newly wed state of mind. we work for it. we fight for our marriage. we want to be a good example to other married couples. we don't sweat the small stuff. we don't hold grudges. we don't call eachother names. we are aware of the "Crazy Cycle" and if we get on it, we hop off as soon as possible. we communicate. we laugh. we really
like
eachother. being together is more fun than being apart. even behind closed doors, even when no one is looking, we have the same love we had 8 years ago, except it's even better!
here are my non-professional tips for wives to keep that JUST MARRIED state of mind:
1. keep working at it.
don't stop doing the things your husband likes you to do. do what you did before you were married when you wanted him to marry you. remember those things?
2. flirt with him.
be silly and laugh at his jokes.
3. be easy to get along with.
really. would you want to be married to you if you were him?
4. respect and love his family.
it's the family God chose for him, and then for you. show how much you love him by loving them, too.
5. continually pray for your marriage.
6. make time for him.
seriously. do it. read
Love and Respect
.
7. let him be your hero
, and boost his ego a little bit. brag on him in front of his family and friends. thank him and compliment him.
8. stay on his team.
work with him towards your common goals- the little ones and the big ones. together you are a powerful unit.
9. don't talk bad about him to your girlfriends.
10. paint JUST MARRIED on your car
and relive that season. why not!?
"Love never gives up."
-1 Corinthians 13:4
-----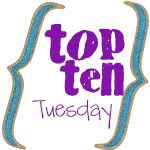 linked up at OhAmanda.com's Ten on Tuesday.
photo credit